Serums are a must-have in a skincare regimen, but shopping for one can be overwhelming. It's hard to decide which product to add to your cart because there are so many options, and they all claim to do wonders for your skin. If you're having trouble picking the right serum, the trick is to look at the ingredients list.
The ingredients in a serum tell you what skin concerns the product addresses, letting you know whether it will help you achieve your skin goals. For example, serums with hyaluronic acid are hydrating and make dehydrated skin look bouncy and moisturized.
In this post, you'll meet the commonly used serum ingredients to help you choose a product that will be your skin's new best friend. Before jumping into the ingredients, it also helps to know what facial serums do and why you should use them.
What does a serum do for your face?
A facial serum is a skincare product delivering potent, active ingredients to your skin. It's a lightweight, fast-absorbing liquid with concentrations of powerful ingredients, such as antioxidants, vitamins, acids, and peptides.
Serums target specific skin concerns and provide numerous benefits. Depending on its ingredients, a serum can remedy acne, dryness, and excessive oiliness. It can even help slow down skin aging. Facial serums also address skin texture issues by fading scars and discoloration while toning and brightening your face. 
Although other face products can give similar results, a serum is better because it often contains higher concentrations of active ingredients. Plus, serums' lightweight, liquid texture allows them to absorb deeply, effectively targeting skin concerns.
Facial serums have formulations for different skin types and concerns. Whether you have oily, dry, sensitive, or combination skin, there's a facial serum out there to match your skin type and help you achieve your skin goals.
5 Common Serum Ingredients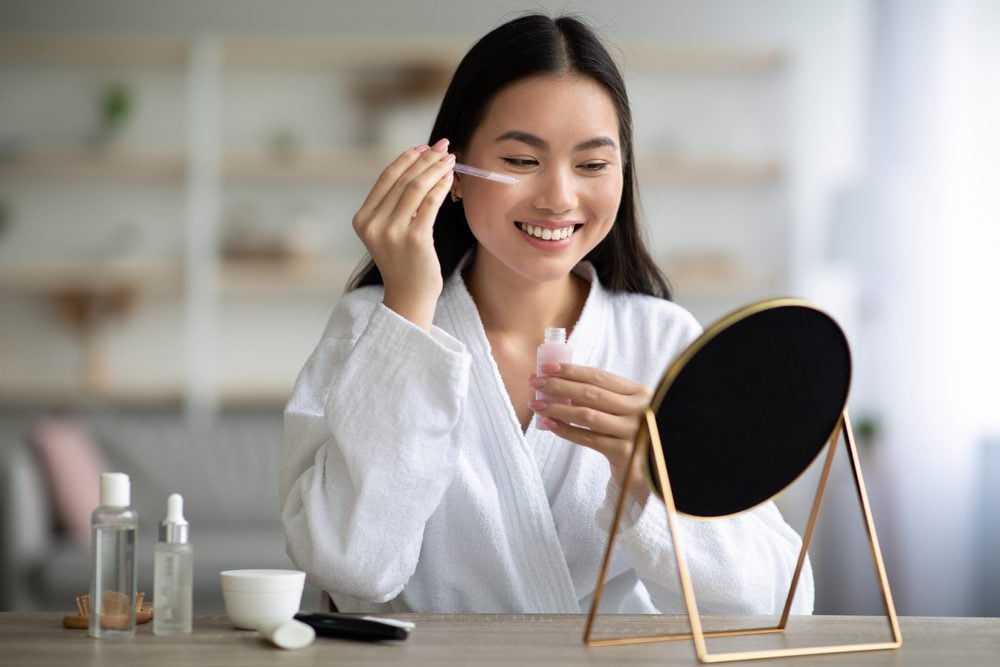 Now that you know what facial serums offer, it's time to dive deeper and discover the best one for your skin. Here are some popular active ingredients that serums typically have.
1. Retinol
What it does: Retinol is a renowned anti-aging holy grail among skincare enthusiasts. It minimizes wrinkles, fine lines, and hyperpigmentation by stimulating collagen production. Because of its exfoliating properties, retinol helps remove dead skin cells and brighten complexion. Using retinol regularly and properly gives you firmer, plumper, and softer skin.
Who should use it: This remedy is ideal if you're looking to slow down the appearance of signs of aging. You can use retinol in your late 20s to help your skin age gracefully.
When to use: Always apply retinol serum at night, as daytime use can make your skin more vulnerable to sun and ultraviolet (UV) rays damage. Don't forget to apply sunscreen during the day, even if you stay indoors. Another helpful tip is to slather moisturizer before retinol application. This will prevent redness and dryness, especially if it's your first time using retinol.
2. Hyaluronic acid
What it does: Hyaluronic acid is a humectant, which means it's effective at keeping your skin hydrated. It has the superpower of absorbing up to a thousand times its weight in water. This intense hydration results in supple, bouncy, and healthy skin.
Who should use it: Hyaluronic acid suits dehydrated or parched skin. It can also do wonders if you have dull skin or you're trying to prevent or improve fine lines and wrinkles.
When to use: The great thing about hyaluronic acid serums is that you can use them in the morning and night. They're gentle enough for daily use and all skin types, even sensitive skin.
3. Glycolic acid
What it does: Glycolic acid is a famous alpha hydroxy acid (AHA) with multiple skin benefits. As a chemical exfoliator, it strips off dead skin cells and other gunk from your face to reveal smoother skin. It lightens other skin texture problems as well, such as sunspots, scars, and discoloration, resulting in a brighter complexion.
By removing all the buildup from your skin and keeping your pores clear, glycolic acid also helps control acne breakouts at bay.
Who should use it: This wonderworking AHA is a great addition to your oily skin skincare routine. Glycolic acid is also perfect for preventing breakouts on acne-prone skin.
When to use: Glycolic acid serums work best at night. You may use it before other facial products to prep your face for better and more effective absorption. Remember to apply sun protection in the morning because exfoliants like glycolic acid can increase UV sensitivity. 
4. Niacinamide
What it does: Like hyaluronic acid, niacinamide is another superb water-soluble moisturizer. It addresses dry, flaky skin by preventing water loss on the skin. This form of vitamin B3 also corrects uneven skin tone, restores the skin barrier, and helps fade lines and wrinkles. 
Who should use it: Whether normal, dry, or oily, this cult favorite ingredient fits all skin types. However, niacinamide is especially good for acne-prone skin because of its ability to treat and prevent blemishes. It's also effective at addressing enlarged pores and discoloration, which are common struggles among people who are prone to acne.
When to use: Niacinamide serums are gentle on the skin and mild enough to use day and night. Just remember to moisturize and wear your sunscreen.
5. Vitamin C
What it does: Vitamin C is a favorite in the beauty industry, and for good reason. This ingredient protects the skin against free radicals, promotes collagen production, and supports cellular repair. It also speeds up wound healing and improves skin elasticity. Since it brightens the skin, vitamin C is also great for fading discoloration.
Who should use it: Vitamin C is suitable for all skin types. If you want a hardworking ingredient that addresses multiple skin issues, it's best to add vitamin C to your routine.
When to use: We recommend applying vitamin C serum in the morning as additional sunscreen protection to shield your skin from the sun's harsh rays.
Get Your Glow on with a Serum
Searching for your holy grail serum will no longer be a frustrating, difficult task. Now that you know the most common active serum ingredients better, finding which facial serum suits your skin will be easier. As long as you read the ingredients list, you can pick a product targeting your skin concerns.
Lucky you, Kiehl's has a new Ultra Pure High-Potency Serum line containing these beloved skincare ingredients—niacinamide, hyaluronic acid, and glycolic acid. Check out more of Kiehl's powerful and latest serums today.